Solution Processable Metal PhthalocyanineNanofibre dispersions
K PriyaMadhuri, Neena S John, ChemistrySelect 2019, 4, 7292; K. PriyaMadhuri, Neena S. John, Bull. Mater. Sci. 2018, 41, 118; K. PriyaMadhuri, Neena S. John, Appl. Surf. Sci. 449, 528, 2018.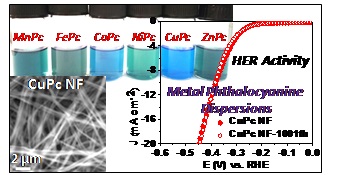 Commercially obtained MPcs are bulk crystallites and are not soluble in most of the solvents. This is the major factor that hinders the applications of MPcs in wet chemical based processing methods or device fabrication and for most such purposes substituted MPcs with functional groups such as nitro, alkyl, sulfonyl are employed. We have synthesized MPcsnanofibres with different metal centres (Mn, Fe, Co, Ni, Cu and Zn) using a simple chemical route. The fibres are 150 nm in width and are elongated structures as a consequence of self-assembly resulting from Π-Π interactions. The synthesized MPcnanofibresare explored for different electrochemical applications and exhibit superior activity over the commercial MPcs. The superior performance of the MPcnanofibresis attributed to the nanostructured morphology with higher electrochemical surface area. The pencil graphite electrode modified with NiPcis investigated for electrochemical oxidation of ascorbic acid and it is found that the electrode is linear for a concentration range from 5.5 µM to 5.2 µM with 1.5 µM detection limit. CuPc and CoPc modified glassy carbon electrodes were explored for hydrogen evolution reaction with an onset potential of 250 and 290 mV and a Tafel slope of 120 and 107 mV dec-1, respectively. Further, NiPc was composited with reduced graphene oxide (rGO) to exploit the synergy of pseudocapacitance and electrical double layer capacitance. The Π-Π interactions between the NiPc macrocycle and the sp2 network of rGO offers an excellent interface and less charge transfer resistance. The composite exhibits a specific capacitance of 223.28 F g-1 at 1 A g-1.