MoO2 nanostructures for Electrochemical Hydrogen evolution
Vivek Ramakrishnan, C. Alex, Aruna N. Nair, Neena S. John, Chem. Eur. J.,2018, 24, 18003-18011.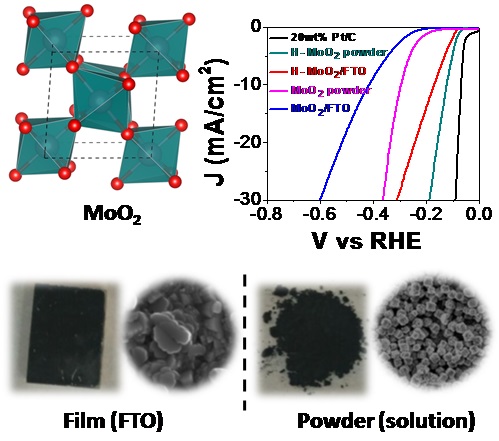 MoO2 nanostructures for Electrochemical Hydrogen evolution
We demonstrate a simple hydrothermal process to grow films of MoO2 nanostructures (NSs) on rigid substrate viz., fluorine doped tin oxide (FTO) and also to synthesize powder form in the bulk solution. As-synthesized MoO2 in pure form has monoclinic symmetry and metallic in nature. The systematic growth is deeply investigated by varying conditions such as time, temperature, concentration, precursor and substrate. Most interestingly, the electrochemical water activation studies show that MoO2 NSs can be an excellent hydrogen evolution reaction (HER) catalyst upon hydrogen annealing (H-MoO2) and displays low onset overpotential of 70 mV with a Tafel slope of 84.1 mV dec-1 in film form on FTO whereas powder form exhibits onset overpotential of 46 mV with Tafel slope of 71.6 mV dec-1. H-MoO2 NSs are one among the most active Mo-based electro-catalysts, verifying its promising application in HER. Main highlight of this work is the preparation of MoO2 with varying morphology and caused high improvement in the HER with hydrogen treatment with MoO2 emanated system as such.