Tata Steel Limited (TSL)
A Joint Centre, Tata Steel Advanced Materials Research Centre (TSAMRC), was launched at CeNS in October 2016. The objective of the Joint Centre is to carry out research and developmental activities in the field of advanced materials with a focus on commercialization of research outcome. The projects under TSAMRC are fully funded by TSL.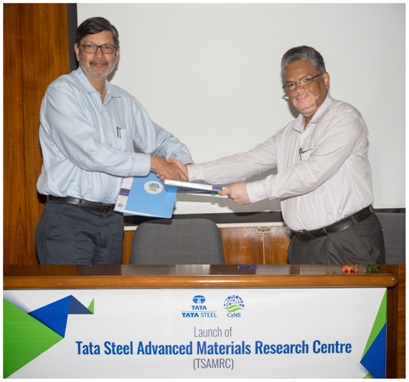 Hind High Vacuum Co. Pvt. Ltd. (HHV)
A joint R&D project funded by the Nano Mission, DST, Government of India and HHV has the objective to fabricate large area nano-mesh coated transparent conducting glasses for smart window technology.
Hindustan Petroleum Corporation Ltd
In Feb 2017 an MoU was signed with Hindustan Petroleum Corporation Limited to carry out a joint project to find value addition to industrial carbon waste.
Tata Steel and Papierfabrik Louisenthal GmbH